BLM illegally sold thousands of wild horses for slaughter: report
 The Washington Times – Saturday, October 24, 2015
The Bureau of Land Management, the agency tasked with protecting wild horses and cattle and their grazing lands, sold 1,794 federally-protected wild horses to a Colorado rancher who sent them to slaughter, a new report confirmed.
Between 2009 and 2012, rancher Tom Davis purchased the horses through the agency's Wild Horse and Burro Program (WH&B) and wrongfully sent them to slaughter, according to the report from the Interior Department's Office of Inspector General. According to the allegations and news reports, Mr. Davis also had farming and trucking connections with former Secretary of the Interior Ken Salazar.
"We determined that BLM did not follow current law while managing WH&B. BLM also failed to follow its own policy of limiting horse sales and ensuring that the horses sold went to good homes and were not slaughtered," investigators wrote in the report.
Mr. Davis admitted that most of the horses that he purchased through the BLM went to slaughter.
He told investigators that "in selling so many loads of horses, BLM had to know that the horses would end up at the slaughterhouse."
The wrongful sale also cost taxpayers $140,000 to deliver truckloads of horses to Mr. Davis. He paid $10 a piece for the horses, or less than $18,000 total, and made as much as $154,000 in profits by selling them for slaughter, according to the report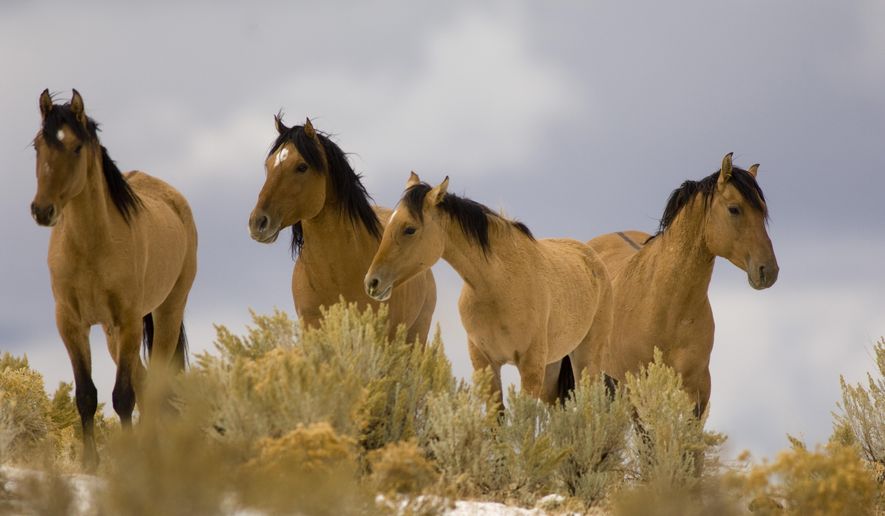 Febraruy 10,2012
 Outrage over secret documents planning to kill or slaughter 50,000 native wild horses 
 Now we all know what happened in 2008, when the blm claimed they were going to kill 33,000 Wild Horses, M. Pickens went to them to take the 33,000 and the blm told her no. She asked the blm for 500 a head to take them. Common Sense folks, the 33,000 are not there, probably slaughtered a long time ago…..same with this smoke screen.   They can not account for the wild horses in long term holding and have no idea how many are left on the ranges…..God Bless America
Wild  Horse   Holocaust
How does GnRH Work? GnRH agonists work by essentially "shutting down" the pituitary gland. The pituitary gland is a tiny gland located in the frontal portion of you…r brain, just by the temple of the head. It secretes LH and FSH to trigger ovulation in fertile mares. GnRH agonists overstimulate the pituitary, causing it to release more FSH and LH. When it senses this overstimulation, the pituitary gland shuts down, stopping ovulation from occuring. Hence, when consistent use of GnRH will over time inevitably change the normal breeding cycles and evetually reverse engineer DNA programming.PZP is not a fertility inhibitor like GnRH but it is just as genetic altering. The use of PZP over long term intervals will more than likely create a paradox within the species own immune system. PZP specifically turns the immune system against the fertilized egg and kill it before it develops. Again, over time the DNA of the wild horse or any animal being treated with PZP will eventually reprogram itself as a it adapts to the new cycles of reproduction.The BLM's hopes are that vaccines like GnRH and PZP-22 will slowly alter wild horse reproduction to the point of sterility..
Mustang Jack
Thursday, March 4, 2010
While Congress ponders how much money to give BLM for their administration of the Wild Horse & Burro Program, here are a few stories I wanted to share about what is going on in the wonderful world of wild horses and burros as well as a link HERE to my letter to the U.S. Senate Committee on Energy and Natural Resources regarding continued funding of the Program.
MOJAVE-SOUTHERN GREAT BASIN RESOURCE ADVISORY COUNCIL MEETING (RAC) – February 18, 2010
While the rest of Las Vegas was holding up protest signs for Obama's limo brigade, I was taking notes at the RAC meeting held in BLMs Las Vegas office.
Led by Chairman John Hiatt, Representative for Wildlife, most Board Members engaged in a lively conversation about wild horses and burros with a special emphasis on the advocates themselves. Generally denigrating, commentary was peppered by such choice tidbits as, "There's no use talking to these people as they have already made up their minds" and "They don't understand the problems".
Following a general round of back patting and self congratulations for the Board helping to get letters of support submitted for BLMs removals in the Calico Mountains, Chairman Hiatt waved around a glossy, colored postcard of Pryor Mountain mustang Cloud on one side and captured wild horses on the other as Mr. Hiatt extolled upon the nature of ungrounded propaganda organizations use to excite ignorant horse and burro lovers across the county.
Not to be left out, a variety of BLM personnel ranging from National Program Office Chief Communications Office Doran Sanchez and District and Field Office Managers such as Mary Jo Rugwell, Thomas Seley and Rosemary Thomas, were also in attendance.
Rosemary reported to the Board that the Eagle HMA's removal operations had been postponed due to guidance from the national level encouraging BLM to follow public processes instead of issuing Full Force and Effect decisions to remove the animals. No mention was made that safety considerations had been cited in BLMs press releases.
Chief Communications Office Doran Sanchez also reported that BLM was initiating a campaign to counter all the misinformation being spread by "bad blogs".
As a result, last week a request was sent to Mr. Sanchez as well as National Program Office's Wild Horse & Burro Lead Dean Bolstad to supply more information about what exactly that entails, what is the current allocated budget to launch and sustain this campaign, what is the projected time frame BLM will engage in this effort and will it be done "in house" or is BLM hiring a marketing firm to handle the efforts. So far, no response has been received but will keep you posted if BLM clears the questions through Public Affairs….
HOLDING FACILITY UPDATES – February 15, 2010
Currently, BLM has posted two sets of Holding Facility numbers on their website with remarkably different results. Posted on the Monthly Gather, Adoption, Holding, and Sales Statistics webpage, no amount of flattery or coaxing could convince the calculator that the numbers were suppose to equal 36,186 as BLM reports HERE.
Here's what EWA researcher Valerie James Patton had to say when confronted with the "numbers"."The preparation subtotal is correct, but I added up all the individual maintenance facility numbers, and the correct subtotal for the maintenance facilities is 10,604. Whether or not they meant to state the long term facility subtotatal was 36,186 or if they meant that to be the total number for all the facilities, after I added up all the individual long term facility numbers, the subtotal is 22,575. Even if you add up all the subtotals that BLM had listed, it still doesn't come out to 36,186, but the correct total number of all the facility horses is 37,892." Yes, that's over a 1,700 animal discrepancy.
Fortunately, BLM posted another set of numbers HERE. Well, I guess that solves the mystery of which set of numbers is right, doesn't it? Or does it?
Note: The BLM has recently responded that the Monthly Report was in error and will be corrected by tomorrow. In order to preserve the integrity of what they originally posted, a pdf verion of their Facility Chart numbers have been uploaded for public review HERE.
THE BLM SELLS WILD HORSES TO PEOPLE LIKE JASON MEDUNA FROM 3 STRIKES RANCH
The former owner of the 3-Strikes Ranch in Morrill County has been sentenced to a prison term of 40 months to ten years for criminal neglect of animals.
Morrill County District Court Judge Leo Dobrovolny handed down the sentence Tuesday afternoon in Bridgeport.
In January, 43-year-old Jason Meduna had been found guilty of 145 counts of cruel neglect of an animal resulting in death or injury.
MY RESPONSE FROM THE BLM, AFTER  I WROTE FOR AN EXPLANATION….
Dear Lin,
Ramona DeLorme forwarded your e-mail to me. The BLM did not sell pregnant
mares to the Medunas. As for stallions, our gelding policy at the time was
to geld 4 year and older horses. Some of the horses sold to Meduna were
younger than that at the time of sale and were sold as stallions.
After receiving reports of neglect, the BLM inspected Jason Meduna's 3
Strikes Ranch near Alliance, Nebraska on April 14th. Mr. Meduna has
purchased over 200 wild horses from the BLM since 2005 and adopted six.
The BLM found the horses on Mr. Meduna's property to be in poor to
extremely poor condition. A veterinarian determined that the poor
condition is likely from malnutrition.
The animals purchased from BLM were titled to Meduna. The six adopted wild
horses and burros were untitled, and thus were still federal property.
During the compliance visit, the BLM took possession of one of the six
adopted animals when Mr. Meduna willingly relinquished the horse back to
the BLM. Mr. Meduna stated during the visit that the 3 untitled burros had
died although he had not reported their deaths to BLM. One of the other
two animals was reported dead by Mr. Meduna on March 27, 2009. Mr. Meduna
could not locate the remaining untitled horse and stated that it may be
dead.
By law, the BLM is responsible for wild horses and burros that are
untitled. Once a wild horse or burro is titled it loses its protective
status under the law and the BLM cannot legally repossess the horse or
burro or provide funding for the care of the animals. Adopted animals are
typically titled one year after adoption. Animals that are purchased under
the BLM's sale authority are titled immediately.
The BLM was very concerned about the horses and has learned from Jerry
Finch of Habitat for Horses that all horses have either been adopted or
sent to the Black Beauty Ranch in Texas. If you are still interested in
helping the horses please contact Habitat for Horses at
office@habitatforhorses.org or 866-434-5737.
The BLM has received complaints in the past about the ranch and has
inspected Mr. Meduna's facilities and animals and found no violations
previously.
Any prosecution for the deaths and neglect of non-BLM horses will be
handled by local authorities. The BLM will work with appropriate federal
or local prosecutors on charges related to the BLM wild horses.
Thank you for opening up your heart to some of these horses. Sally
****************************************
Sally Spencer
Wild Horse & Burro Program
Office: 202-452-5196
Cell: 202-641-6106
Fax: 202-653-9084
NEVADA DEPT. OF AGRICULTURE
SENDS WILD HORSES
TO SLAUGHTER DEALER
The Nevada Department of Agriculture is responsible for managing the free-roaming horses of the Virginia Range near Reno. The Virginia Range horses are a component of the Comstock National Historic District and the ones that Velma (Wild Horse Annie) Johnston first fought to protect. Over several years the Nevada Legislature has passed laws designed to protect this herd and set specific requirements for the disposition of horses removed from the range. The current Director of Agriculture, Tony Lesperance, tends to ignore these laws.
Recent Developments.
On Thursday morning, December 3, 2009, Nevada State Brand Inspector Daryl Peterson was observed directing inmates at the Northern Nevada Correctional Center to load eight Virginia Range horses into a Nevada Department of Agriculture gooseneck horse trailer. The pickup towing the trailer was also identified as belonging to the Department of Agriculture and was driven by Peterson. The trailer contained seven horses that the Department had trapped in the Damonte Ranch area near Southeast Reno and one horse trapped in the Virginia City Highlands community north of Virginia City.
Peterson, the pickup and trailer were observed traveling in the direction of Elko, NV. Animal welfare volunteers contacted the Washington D.C. based Equine Welfare Alliance (EWA,) expressing concerns that Director of Agriculture Tony Lesperance, a former Shovel Brigade thug and Jim Gibbons appointee, was making good on his threats to send Virginia Range horses (Nevada state property) to slaughter. [Citation: Las Vegas Review Journal]
Meanwhile Lt. Northrup, NDoA's Northern Region Enforcement Supervisor, who had previously claimed no knowledge of the horses, was observed in the state pickup with Inspector Peterson outside Elko headed to Meadow Valley Ranch, owned by slaughter dealer Kevin D. (Ole) Olsen. [Citations: TruckAccidents.com, SaveDaHorses.org]
It was suggested by a public official that Olsen was just "keeping" horses, however collecting horses as pets is not within Olsen's ordinary course of business. Olsen is reported as a tenant of the C. Horse auction and slaughter horse collecting station, Moses Lake, WA. The collecting pens are rented by: Kevin (Ole) Olsen, DOT 975896, 1 Frontier Dr., Elko, NV 89801. When the Washington based group Animal Angels investigated the operation, they reported that they were told the following by a resident on the premises that all horses are owned by Ole Olsen. He keeps them there until they go to the "glue factory." Mr. Olsen has people come out there to feed them, sometimes they do, sometimes they don't. He himself never goes back to the pens or checks on the horses. The auction has a horse sale once a month. [Citation: Kaufmanzoning.net]
Lies are not uncommon within the Nevada Department of Agriculture. Last year Peterson was allegedly ordered to prepare an falsified brand certificate that was used to dump a couple dozen Virginia Range horses in Oregon. Lesperance has been accused of making false statements to the State Legislature in attempts to get money for his department. When challenged over false statements made by himself or his personnel, Lesperance's typical response is, "Those activists twist what I say."Attorney General Catherine Cortez Masto's office seems to do little better. While investigating extortion allegations against state officials (possibly involving Director Lesperance,) the Attorney General's office lost track of some documents and at one time lost the entire file. When this scenario was presented to a couple of local Nevada law enforcement officials, the most polite (and only printable) response was, "You want the AG's office to investigate anything? Good luck."Leigh stated, "Nevada does have laws and at some point someone is going to enforce them. If this deal was legal, and state laws do permit sales, why all the secrecy?"Ole Olsen InterviewExaminer On-Line writer Carrol Abel was able to interview Mr. Olsen. This interview appears in her Examiner report on this story here.What you can doYou can contact the following public officials, complain about the conduct taking place at the Nevada Department of Agriculture, and demand an investigation.
Governor Jim Gibbons
101 N. Carson Street
Carson City, NV 89701
775-684-5670
Fax: 775-684-5683
Contact form: Contact Governor Gibbons
Director Tony Lesperance
Nevada Department of Agriculture
405 South 21st St
Sparks NV 89431
775-353-3613
Fax: 775-353-3638
Email: tlesperance@agri.state.nv.us
Catherine Cortez Masto
Nevada Attorney General
100 N. Carson St.
Carson City, NV 89701
775-684-1100 (switchboard)
FAX: 775-684-1108
775-684-1189 (Edie Cartwright, Public Affairs Officer)
Email: ecartwright@ag.nv.gov
Wild horse advocates are considering their legal options
Reno, Nev. (AP) Wild horse advocates say they have no recourse but the courts after federal land managers rejected their request for an immediate moratorium on mustang roundups.
The Bureau of Land Management plans to remove more than 30,000 horses from Western rangelands over the next three years to deal with soaring numbers of the animals and the cost to manage them.
The Equine Welfare Alliance, which represents more than 60 organizations, is considering its legal options after the BLM rejected its request to halt the roundups, said John Holland, its president. The Chicago-based coalition opposes Interior Secretary Ken Salazar's proposal to move thousands of mustangs to preserves in the Midwest and East to protect horse herds and the rangelands that support them. Salazar has said his plan unveiled last month would avoid the slaughter of some of the 69,000 wild horses and burros under federal control to halt the rising cost of maintaining them.
"The BLM continues to say wild horses are overrunning the range, but they have no scientific evidence," Holland said. "We're going to file everything we can afford to, with what resources we can gather."
BLM spokesman Tom Gorey said his agency thinks there's scientific evidence to justify the removal of 11,500 of the animals from the range over each of the next three years.  The agency has set a target "appropriate management level" of 26,600 of the animals in the wild, about 10,000 below the current level. An additional 32,000 of them are cared for in government-funded corrals and pastures.
"We're confident that our scientific analysis stands up to scrutiny," Gorey said. "The herd sizes double every four years, so it's untenable to suggest we do a moratorium."
The Equine Welfare Alliance has questioned the BLM's horse numbers and said there was no evidence justifying removal of the romantic symbols of the American West.
Holland said horse advocates now are considering legal action to block certain individual planned roundups, including one targeting 2,500 mustangs near Gerlach in northern Nevada. Nevada is home to about half of the horses in the wild."It's very difficult to go after a program like this, and the BLM knows it," Holland said. "You have to go after it piecemeal."
The roundups are coming at a time when there are almost as many wild horses in holding pens as on the range.
The BLM has completely eliminated some herds and left remaining herds genetically unviable as a result of reduced numbers and mares that were given birth control, Holland said.
"The roundups will eliminate the wild herd," he said. "I think they underestimate the feeling of the American people about this wild heritage."
Gorey said some horse advocates' claims that the BLM is trying to "exterminate" the animals is "pure propaganda."
The agency is merely trying to bring horse numbers down to protect rangelands for the mustangs, native wildlife and other resources, he said.
There were 25,000 of the animals on the range in 1971, when a federal law protecting them was passed by Congress.
Salazar's proposal will be considered at a Dec. 7 meeting in nearby Sparks of the National Wild Horse and Burro Advisory Board.
Costs to manage the animals that are expected to jump from $36 million last year to $85 million by 2012 have prompted Salazar to propose his new approach.
The seven preserves would hold about 25,000 horses. Many of the horses remaining on the range would be neutered and reproduction in Western herds would be strictly limited.
The federal Bureau of Land Management (BLM) has issued its 2010 Round-up Schedule which provides for the capture of a staggering 12,000 additional wild horses and burros, at the cost of 32 million of our tax dollars! Given BLM?s recent handwringing over the number of horses in government holding, this announcement is simply baffling. More than ever, America?s wild horses are under siege, their long-term survival increasingly threatened.
Nevada?s Calico Complex, with over 2,500 horses slated for removal next month, is high on the list of questionable removals and another example of BLM?s out-of-control behavior. This herd was last rounded up in 2005, when BLM left an estimated 575 horses on the range and gave the mares a contraceptive vaccine. Yet, BLM now claims there are over 3,000 horses in that same area, a preposterous number, even by BLM standards. Locals familiar with the herd are adamant there are far from that many horses left on that range. Indeed, only BLM?s creative accounting could find that a herd has quintupled in size in less than five years, let alone a herd under a contraceptive program!
Interesting background information: last year, BLM authorized a 300% increase in cattle grazing for the area, and the building of a fence that BLM itself admitted might cut wild horses from their winter range and cause them to die. Wild horses would also be locked out of the best pasture with the most abundant water during the driest time of the year. At the time, BLM justified its decision by arguing that wild horse populations in the area were minimal. A couple of months later, it came out with its puzzling claim of population explosion, setting the stage for this massive round-up.
Clearly, something here is amiss. Where did these 3,000 horses come from?
Comments to BLM regarding this round-up must be provided by Thursday, November 12, 4:30 pm PST to Jerome Fox, BLM, 5100 E. Winnemucca Blvd., Winnemucca, NV 89445; Fax: (775) 623-1503; Email: NV_WFO_Webmail@BLM.gov (please be sure to include the following reference #: DOI-BLM-NV-W030-2010-0001-EA)
More importantly, the Department of Justice, which is currently investigating BLM for other misdeeds, must be made aware of another instance of this federal agency running amok. Please express your concerns over BLM?s questionable practices and continued mismanagement of our wild horses to:
John Cruden, Acting Assistant Attorney General
U.S. Department of Justice, Room 2141
950 Pennsylvania Avenue, NW
Washington, D.C. 20530-0001
Email: john.cruden@usdoj.gov
(note: letters to the DOJ are not subject to the Nov. 12 deadline)
On behalf of America?s wild horses, thank you for your support,
The AWHPC Team
American Wild Horse Preservation Campaign
www.wildhorsepreservation.org
Sunday, October 25, 2009
This is the BLM District that is "culling" the Wild Horse Herds in the Tobin Range from about 400 to 22 – still treating them like "range vermin."
Click on title above for complete pdf of EA;
Posted by Mz.Many Names at 6:50 PM 0 commentsLinks to this post
The Big Story
The Deadly Gathers of BLM
By Steven Long
HOUSTON, (Horseback) – The Bureau of Land Management's concerted effort to thin the herds of wild horses on land it manages has proven deadly, so deadly in fact, that for each of the last two years (and this year's not over yet) there have been fatalities on almost half of the "gathers" the agency has conducted.
And last week, Interior Secretary Ken Salazar announced the roundups will continue as herds across the West will be reduced as horses are moved from their natural habitat to artificial refuges in the Midwest and East – this despite the 256 million acres potentially available to the animals on BLM lands.
BLM released fatality statistics from its roundups for the last two years to Horseback Magazine late Thursday.
In 2008, 45 percent of the roundups resulted in at least one fatality, and on one in Nevada, 27 horses died. The total number of deaths through injury or for other reasons totaled 126 animals last year.
The percentage of dead horses on BLM roundups this year is slightly worse at 46 percent resulting in at least one horse death. In July, a Wyoming gather proved fatal to 11 horses. To date this year, 79 horses have died as the agency rushes to clear wild horses from the West.
Experts have told Horseback Magazine that the massive roundups are leaving the western wild horse herds genetically bankrupt. . And chemical sterilization is taking its toll as well, they say.
Over the last two years a total of 205 horses have died at the agency's hands during its gathers to thin the herds despite the vastness of the lands managed by BLM..
In BLM roundups, horses are often driven down miles of rocky slopes by a roaring helicopter. Such was the case in Wyoming this year when 11 horses died at Coconut Creek. A total of 349 horses were caught in that gather.
Although helicopter induced stampedes result in fatalities, the agency is reluctant to classify a limping horse as injured.
The bureau classifies equine deaths two ways, according to national spokesman Tom Gorey of the agency's Washington office.
It classifies horse deaths directly related to a gather as "the number of animals that died or were euthanized because of acute injuries or medical conditions brought about by the gather and removal process, including those that occurred during capture, sorting, and herding at the gather site. This category includes all animals euthanized for reasons related to gather activities."
Translated from bureaucratese, these horses would not have died had they been left alone in their natural habitat.
All other deaths are lumped together in one group for "reasons related to chronic or pre-existing conditions such as body condition, lameness, and serious physical defects. This category includes all animals euthanized for reasons not related to gather activities."
Gory classifies as myth reports that the agency views a 1 percent death rate as acceptable.
"There is no fatality rate that is considered acceptable to the BLM," he said. "Our goal is zero percent fatalities in connection with gathers."
Gory said a percentage of deaths lumped into the second category in 2008 was unusually high because they were "primarily related to Nevada horses that suffered serious health issues resulting from shortage of water and poor forage conditions because of drought and wildfire"
He said these horse deaths occurred at the Nevada Wild Horse Range, Roberts Mountain, New Pass/Ravenswood, and Augusta Herd Management Areas.
In fact, the agency reported that of the 126 deaths attributed to gathers last year, 106 of them fall into the latter category.
Spinning Out of Control
By Steven Long
HOUSTON, (Horseback) – It was as if a message came down from on high for the boys at Interior and the Bureau of Land Management to do something to make those damned phones stop ringing. So Sec. Ken Salazar and the Director of the Bureau of Land Management, Bob Abbey, put on their tap dancing shoes and began to spin.
The big spin came late in the hastily called press conference announced at the last minute to settle America's angst about those 69,000 wild horses the BLM reluctantly owns – the result of a 1971 law it never wanted because the land was more valuable as rangeland for cattle, leased for minerals, or set aside for big game hunters
"Cattle grazing's been steadily reduced on BLM lands since 1940," Abbey said.
And there's the spin.
BLM land leased to ranchers by the bureau may have been reduced overall since the year before America entered World War Two. Yet just the opposite has happened to the millions of acres set aside with passage of the 1971 Free Roaming Wild Horse and Burro Act.
The law called for BLM to set up protected area for wild horses where they were found at the time the new law went into effect. Since then, that acreage has steadily decreased as the agency leased 13 million acres thereby dramatically impacting and reducing wild horse habitat.
Now the BLM claims it has no place to put the 32,000 wild horses it has in captivity costing the taxpayers daily.
Currently, according to Salazar, there are 69,000 wild horses, total. The BLM has an aggressive program to capture 10,000 more horses from their wild habitat next year, according to the officials.
Fewer horses on BLM lands open up valuable acres for potential livestock leases. Currently, the BLM's going rate is $1.35 per animal per month.
"Too often people try to make this a wild horse vs. livestock issue.," Salazar, a Colorado lawyer and rancher told reporters.
In late September, Sen. Mary Landrieu passed a bill calling for the BLM to come up with a new plan for dealing with wild horses within a year. Salazar and Abbey wasted no time. The new plan announced Wednesday will establish "Wild Horse Preserves" in the Midwest and East on "productive land."
No mention was made by either official of the millions of acres of BLM land which lies vacant in the American west, land it wouldn't cost taxpayers a cent to set aside for wild horses.
Moreover, no mention was made during the press conference of BLM not renewing grazing leases as their term expires.
The new plan would "showcase" current herds and highlight them as monuments.
In the press conference Salazar referred to the Pryor Mountain horses made famous by Emmy Award winning documentary filmmaker Ginger Kathrens in her "Nature" series on PBS as one such herd. However, Salazar neglected to mention that equine geneticists have charged a BLM "gather" over Labor Day week possibly reduced that herd's numbers beyond genetic viability. Some of the animals were injured as well in a stampede down a 5,000 foot rocky slope for up to ten miles, driven by a roaring helicopter (click on the Horseback cover at the top of this page to read the story of the hunt).
BLM has announced plans soon to hold more roundups that will reduce a herd at McCollough Peaks, WY, by 90 percent. The gathers have drawn fire from wild horse lovers, angered by what they call BLM's callous treatment of the animals.
Salazar said his new plan would develop a "strategy to keep horses at a sustainable level."
Herds on western lands would be severely reduced because of neutering.
He also suggested BLM would open management of the proposed seven new wild horse ranges to private nonprofit organizations and would consider a proposal from billionaire Madeleine Pickens to set up a vast preserve for the Mustangs.
"Our proposal doesn't in any way knock out her proposal," Salazar said. "Her proposal will be considered with all of the other proposals."
Previously, BLM has repeatedly said no to the Pickens proposal.
The BLM would retain management of two of the new preserves. The new protected areas would hold about 25,000 horses each.
Salazar said the acquisition cost for new lands in the Midwest and East to house the horses is estimated at $92 million, a modest sum for tens of thousands of acres in today's real estate market.
Yet late Wednesday night the proposal was greeted with howls of protest from horse advocates who have long fought for wild horses and against the contentious practice of equine slaughter.
Part of Salazar's new strategy would reduce requirements for adoption of a wild horse or burro. Critics say BLM's current adoption requirements are already lax and enable "killer buyers" purchasing the horses for the slaughter market to slip through without serious scrutiny.
"They think we are the dumb ones," said Barbara Warner of Kentucky. "They are proposing to move the horses, use even more birth control, and lessen adoption regulations. In other words wipe them out completely."
"Flood the White House with post cards demanding that Salazar be fired on the spot for mismanagement of the wild horses," said West Virginia's Bonny Oliver. "Thousands of cards should get somebody's attention." 
In a final spin, BLM spokesman Tom Gorey danced a final pirouette telling the Association Press, "We think there is real potential for ecotourism," he said. "Everybody loves horses."
http://www.animallawcoalition.com/horse-slaughter/article/1072
Is BLM Proposing Any Real Change to its Wild Horse and Burro Program?
Posted Oct 7, 2009 by lauraallen
In a telephonic news conference today Secretary of the Dept. of Interior Ken Salazar and Bureau of Land Management Director Bob Abbey announced what they described as a new initiative for managing the wild horses and burros.
Secretary Salazar said the proposal will "better protect the wild horses". He described the wild horse population as "out of control" and "a problem simmering and growing over time".  The total population of wild horses, both on public lands and in holding facilities is, according to Salazar, 69,000 compared to 25,000 in 1971 when the Wild Free Roaming Horses and Burros Act was passed to protect wild horses on public lands.
Salazar claims the operation of holding facilities for excess horses will cost taxpayers $69 million this year.
He insisted that "arid western lands and watersheds" can't support these populations of wild horses "without significant damage to the environment" and "degrading public lands". He also said the horses are "not in good condition" because of lack of forage. (Salazar did not mention the thousands of cattle grazing and drinking and fouling water on these lands or land swaps and sales, development and mining as well as in Nevada a plan to siphon off water from herd areas; surelyif public lands are "degraded", these are far more of a factor.)
Salazar announced that he had sent a letter to Sen. Harry Reid (D-NV) today which contains a 3 part proposal: 1. Establish a set of wild horse preserves, basically two, in the midwest or east where there is more water, and work with non-profits and the "thousands" of wild horse enthusiasts to create more sanctuaries and preserves. Tourism would be encouraged and could provide a source of revenue.
2. Secretary Salazar with his authority under the WFRHBA will designate more ranges and work to "highlight" wild horses on these ranges. He cited the Pryor Mountain herd, recently rounded up and decimated as an example of a range under BLM protection.
3. This one was a bit vague but seems to be that BLM will continue to round up and remove horses but will step up "fertiltiy control", monitor sex ratios, introduce non-reproducing herds and increase the flexibilty of adoptions to "good homes".  Under this part of the initiative BLM will work to restore the sustainaiblity of herds and public lands…..
It is not clear that anything will really change in the near future except that at some point some horses may be moved to preserves or sanctuaries from holding facilities or even public lands in the west. Perhaps the BLM simply hopes to avert a bill pending in Congress, S.B. 1579, that will change its managment of wild horses and burros and save them from slaughter or killing by the BLM. This announcement may have been calculated to stop the talk of moving management of the wild horses and burros away from the BLM.
For more on the laws relating to the wild horses and burros…..  Also, go here for information about the bill pending in Congress, ROAM Act, S.B. 1579, that would save wild horses and burros from slaughter and reform the BLM's management of these animals.
For Immediate Release      This is part of  BLM's Intent   you can read the whole report here
http://www.conquistadorprogram.org/blm__court_documents_on_wild_horses
Patricia Haight, Ph.D., (480) 430-2294, pathaight@yahoo.com
Julianne French, 520-309-5791, J_French@cox.net
Documents from Bureau of Land Management Reflect Intent of BLM for Wild Horses in Holding Facilities & on Public Lands
Quote from internal BLM document discussing euthanasia of wild horses: "Increased support from public relations and management staff would also be needed to insulate those doing the actual work from the public, media and Congressional scrutiny/criticism."
(Phoenix, June 6, 2009).  The Conquistador Program announced today that it has received material obtained under the Freedom of Information Act that indicates the Bureau of Land Management is continuing to plan for the euthanasia of a large number of wild horses now in long-term and short-term holding facilities across the United States and for direct sale authority for many more.  Notes of conference calls extending from July 22, 2008 through September 23, 2008 by a six-member implementation team and a draft Alternative Management Plan document demonstrate that several options are being planned.  Among the options are:
Euthanasia of animals for which an adoption or sale demand does not exist (The section addressing euthanasia also includes the following statement, "Increased support from public relations and management staff would also be needed to insulate those doing the actual work from the public, media and Congressional scrutiny/criticism." The section also includes a discussion on psychological counseling for those involved in the destruction and disposal of the bodies because it will be so stressful).
Direct sale of animals who have not been adopted after three attempts with no restrictions on the buyer.  (This would allow for the purchase of horses by killer buyers for sale to slaughter).
Direct sale of horses eleven years and older with no restrictions on the buyer. (This option also would allow for the purchase of horses by killer buyers for sale to slaughter).
Direct sale of horses of all ages with no restrictions on the buyer. (This option also would allow for the purchase of horses by killer buyers for sale to slaughter).
Spaying mares and returning them to the wild.  (This option holds the risk of a minimum 10% mortality rate to the mares.  The statistic is provided by a BLM staffer based on data from the spaying of 30 mares by the United States Fish and Wildlife Service at Sheldon Refuge in Nevada).
Adjusting the ratio of stallions to mares and reducing the ratio to 50:50 thus increasing the number of stallions.  (This section includes a discussion indicating that information from the 80's suggests that the mares and stallions should be allowed to adjust to their natural numbers but BLM thinks 50:50.  The section also includes a discussion of whether changing sex ratios would affect behavior including a statement, "Do we care?").
The documents also contain information included below related to euthanasia of wild horses in their custody:
BLM discussed ways to circumvent the federal carcass disposal law, 43 CFR 4730.2, that prohibits them from paying any agency or individual for burial, burning, incinerating, composting carcasses and paying for disposing of remains. BLM explored paying for carcass disposal through rendering by contract.
As one alternative, the BLM has been in discussion with slaughter businesses from Denmark and Canada to take 10,000 wild horses for slaughter.
BLM discussed strategies to kill horses without having to perform a National Environmental Policy Act (NEPA) assessment. They discussed killing horses in numbers of 1200-2000 per year to avoid greater criticism and scrutiny from Congress, media and the public. The BLM noted the public would be prohibited from viewing euthanasia. There is fear among horse advocates that such activity is already taking place or will take place soon.
BLM discussed methods of changing current policy to fast track horses using the 3 strikes regulation and offer as many as 12,000 wild horses and burros under age 11 for sale earlier hence making more animals at risk of going to slaughter.
The agency also is discussing as one alternative euthanizing horses in the field during round ups at an estimated cost of $500.00 per horse and considering among other things, shooting the horses or use of the captive bolt. The $500.00 figure is the same cost denied to Madeline Pickens who offered to take the wild horses and give them a home.
Documents Reveal BLM Secret Plan to Destroy Wild Horses
Franklin, Texas. Documents obtained from the Bureau of Land Management (BLM) via the Freedom of Information Act by a Phoenix-based non-profit, The Conquistador Program, reveal shocking and detailed plans to destroy healthy wild horses in government holding facilities as well as those still remaining in the wild on public lands.
BLM employees as well as a USDA veterinarian held weekly "Implementation Team" meetings beginning in July of 2008 in which they discussed and developed strategies aimed at ridding BLM of thousands of mustangs. In
October they completed a 68 page document entitled "Alternative Management Options". Tactics included in this document are reminiscent of those used to wipe out Native American tribes in the 1800s.
The BLM team created scenarios for killing mustangs using barbiturates, gun shots, or captive bolts. Bodies would be disposed of through rendering, burial or incineration. They discussed killing 1200-2000 wild horses per
year. The document states that "the general public would be prohibited from viewing euthanasia." Additionally, the Team felt that "increased support from public relations and management staff would also be needed to insulate those doing the actual work from the public, media and Congressional scrutiny/criticism."
"Minutes from these meetings as well as the Draft Plan reveal what amounts to 'the final solution' for the American mustang," states Ginger Kathrens, filmmaker and Volunteer Executive Director of The Cloud Foundation. "Despite a huge outcry from the American public last year regarding BLM plans to kill wild horses in holding, the agency is still pressing forward with a plan to destroy our American mustangs both on and off the range."  Executive Director Ray Field attended the Emergency meeting in Las Vegas last October, 2008 where  BLM Assistant Director Henry Bisson "state the wild horses would be okay" then Bisson retired in February 2009.
Division Chief of the Wild Horse and Burro Program Don Glenn told The Cloud Foundation that "no decision has been made to move forward on a large scale with this plan, yet."
BLM meeting minutes speak for themselves. "Security at facilities and at gathers would need to be increased to combat eco-terrorism. Having the people that are willing to put down healthy horses at gather sites could be
a problem. Having vets putting down healthy horses at preparation facility[ies] could also be a problem." Meeting minutes reveal the psychological toll that employees would pay—"have counseling for employees
and contractors that have to euthanize the healthy horses because it is very stressful."
The report created an option in which wild horses of all ages could be sold "without limitation". In other words, horses could be sold directly to killer buyers in unchecked numbers. The Team admitted that "some wild horses
will go to slaughter".
"Once they are gone, they're gone" says Karen Sussman, President of the International Society for the Protection of Mustangs and Burros. "To lose this incomparable species would be a travesty."
Team Members formulated ways in which they could circumvent the National Environmental Policy Act, asking "How many (wild horses) could be euthanized during a gather (roundup) without having NEPA?"  BLM discussed ways to circumvent the federal carcass disposal law (43 CFR 4730.2). Conversations included how many wild horses could be rendered at the Reno Rendering plant or "disposed of in pits". The Team concluded that "there will not be large numbers of horses euthanized during gathers or in the field. This is due to state environmental laws."
Recommendations include the creation of gelding herds, and sterilization of mares to create non-reproductive herds in the wild in place of natural herds. The team recommended changing the sex ratio from the normal 50% males and 50% females to 70% males and 30% females. Then the experimental two-year infertility drug, PZP-22, would be given to all mares that are returned to the wild. Plans call for rounding up the wild horses every two years to re-administer the drug.
"Mares on the drug will cycle monthly and, with the altered sex ratio, the social chaos will be dangerous and on-going," Kathrens explains. "Any semblance of normal wild horse society will be completely destroyed."